(You wait weeks for a blog post and then two come along practically together. But this is just another short one.)
It's the London Perl Workshop on Saturday. The schedule for the day was published some time ago and it's as diverse and interesting as it always is.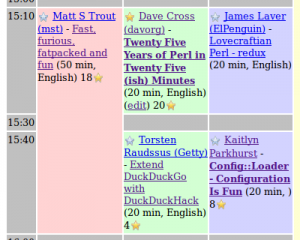 If you look closely at the schedule, each talk has a mysterious-looking number at the end of its description. That's the number of people who have said they are interested in seeing that talk.
Currently, the highest number I can see on the schedule is 26. There are just under 300 people registered for the workshop. That means that a lot of people haven't marked the talks that they are interested in.
Marking the talks that you're interested is useful for a few reasons. Firstly, there's a page on the site which will show you your personalised schedule which just includes the talks you've said you want to see. You could print it out and bring it with you on Saturday (or have that page open on your tablet).
Secondly, it's useful for the organisers. They have a rough idea of which talks are going to be well-attended, but they can occasionally misjudge it. If they find out that 150 people want to see a talk that they have put in a tiny classroom then they can take appropriate measures (like moving the talk).
And finally, it's useful for the speakers to have an idea of how many people are interested in their talk.
It's not hard to register your interest in a talk. Just log in to the workshop web site and go to the schedule page. Every talk will have a star in the top left corner. Clicking that star will register your interest. You're not actually registering for the talk. No-one is going to do anything if you change your mind on the day and go to a different talk on that day. It's just so we can all get an idea of the approximate levels of interest in the various talks.
Why not pop over to the schedule page and mark some talks now?
See you on Saturday.